Press Room
With more than 35 years of media experience, Paul Berry is one of Washington's most respected journalists. He speaks throughout the country on a variety of topics including personal finance and consumer issues. Paul Berry & Associates also provides executives with private and confidential personal consulting in the areas of speech writing & delivery, on-air broadcast techniques, spokesperson training and representation, and media crisis intervention.

In The News
Paul recently visited Nassau, Bahamas to celebrate the new book, A Girl Called Nettie, a memoir by good friend Netica Symonette and published by Dunham Books.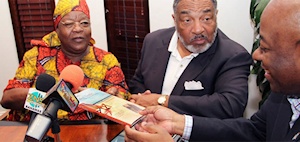 During his visit to honor Nettie Symonette, Paul was presented with an award of appreciation for his 34 years of visits to the Bahamas.  The award was presented by the Minister of Tourism, the Honorable Obie Wilchombe. 
Press Packet