Public Speaking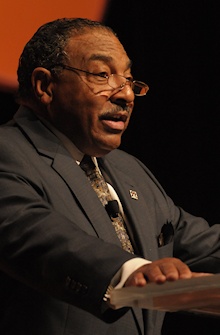 Paul Berry, with years of experience as a news anchor and a public speaker, can convey your core message while at the same time, entertain, inform and educate your audience.
With more than twenty years as a consumer reporter and the past ten years as show host of the consumer show Home & Family Finance, Paul has talked to experts on almost every topic related to financial literacy. He has made contact with experts in nearly every field and is available to speak at your event. Paul can also get the expert or personality you might want for your event.
Engage Paul Berry to Speak at Your Event
If you would like to engage Paul Berry to speak to your group or association, please contact him at 443-496-1892 or complete the contact form on our Contact Us page.

Read more about Paul and his accomplishments: Curriculum Vitae and Quick Facts
Where's Paul?
Thursday, October 20, 2016, Host of 'Points of Light' at the German Embassy in Washington, DC.
Friday, November 4, 2016, Academy for Lifelong Learning, Characters of the Shore: Paul Berry, Conversation about my Grandmother Annie Talley at the Chesapeake Bay Maritime Museum
Saturday, November 5, 2016, Master of Ceremonies and Host of Veterans Honors Awards, Mayflower Hotel
December 27, 2016, Speaker, Bangkok University, Thailand
February 26, 2017 - March 2, 2017, Host of Governmental Affairs Conference (GAC) for CUNA, Washington, DC.
Recent Engagements
August 23, 2016, TV & Radio show guest, Brian Kuhn, on Montgomery County TV, Kensington, Maryland
September 9, 2016, Maryland Celebrity Guest at the Chesapeake Bay Maritime Museum Boating Party Event, St. Michaels, Maryland
September 12, 2016, Chesapeake Bay Maritime Museum Boating Party Auction, Royal Oak, Maryland
Sunday, October 9, 2016, Chicago, Illinois - Hosting James Talley Family Celebration
Recent Engagements: